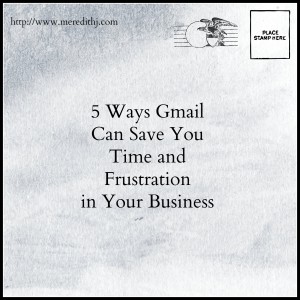 Our email managers can be our on-the-go organized file cabinet or our sliding stacks of papers that make it impossible to find what we need when we need it. However, the list of options out there – Hotmail, Gmail, Yahoo! Mail, Outlook, AOL – can be overwhelming to any business owner.  Choosing an easy to use and functional email manager can save you time and frustration in your business.
I personally prefer Gmail as my email manager of choice. I've used Gmail for over seven years now and, while it's not perfect, it's the best email manager that I've tried. Here are five reasons I suggest Gmail to help you save time and frustration within your business:
1. Gmail is FREE! Business budgets are very important. Even small monthly charges add up during the year and take away resources from other areas of your business. I'm not against paying for great services (and I'd probably pay for Gmail if it was a charge service), but I really love when great services are also free. Gmail makes money off you via ads, however I find the ads to be unobtrusive to my email experience. The best thing about a free service is you can try it out without risk.
2. Gmail Integrates Seamlessly with Other Google Services. I use a LOT of Google services. Google offers great, free solutions to many business and personal technological needs. Gmail works well with services I use every day like Google Drive and Google Calendar. There are even add-ons that allow you to work with these other services, for example you can quickly add dates within your email to your Google Calendar.  Links to other Google services are right in the Gmail box for easy access. I like being able to access several services without having to login multiple times. Every little bit helps when saving time for your business.
3. One Word: Autosave.  I'm old enough to remember the days of lost reports due to crashed computers. Gmail's autosave works lightning fast. I've been writing an email and accidentally hit the close tab button when using my laptop. After a brief moment of panic, I found what I had been typing sitting in my Drafts folder. This saves a lot of frustration and gives a great peace of mind.
4. Access ALL of Your Emails In One Inbox. As an entrepreneur, you probably need access to multiple email addresses. Gmail makes it super simple to receive all of your mail in the same inbox, even email from your domain. No logging in to multiple tabs or windows. No trying to remember which emails that message was sent to. Everything you need is within the same inbox.
5. Superb Searches.  While I do still use labels (the equivalent of folders in Gmail) to keep organized, I don't stress about creating a ton of labels as I did in the earlier days of email. As one might expect of Google, Gmail has a fantastic search for you email. It's rare that I can't find an email in Gmail by putting just a few key terms within the search bar. It saves a lot of time on the front end and a great piece of mind on the back end when I'm looking for an email from years ago.